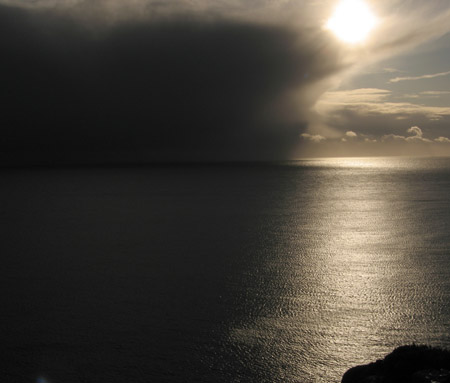 We live on the north coast of Cornwall but I work on the south coast. It is only a 20 mile drive but the difference in the weather during my morning or afternoon commute can be startling at times.
Take this week; for three days running I have left home in thick sea mist but only half way across the peninsula I have driven into glorious sunshine. In the afternoon I have left work anticipating a glorious evening tinkering in the garden or enjoying a pint overlooking the beach to be sorely reminded that the coast hugging mist was still in residence back home.
It does work the other way at times too; leaving a rainy day at work to discover that it has been dry as a bone all day at home.
This north south divide works in other ways too. An example is that of surf conditions. It's obvious really but if it is blowing on-shore on the north it is probably going to be the favoured off-shore direction on the south. It's not often that reasonable surf cannot be hunted down by Phil somewhere after a drive from north to south.
The diversity of weather and surf spots are just two examples of what makes living in Cornwall special. People who visit Cornwall often lump it into one 'experience' but having lived here for a few years you know that it isn't just a north south divide but also it seems every 10 square miles you get a different 'sense of place'; whether that be a small fishing village, a bustling surf resort, an empty windswept beach, a damp misty moorland tor or a mystical stone circle.
....but remember, if it's raining when you visit just drive a little further, or as Mark Twain once said of the similiar coastal climate of New England, 'If you don't like the weather just wait a minute'.