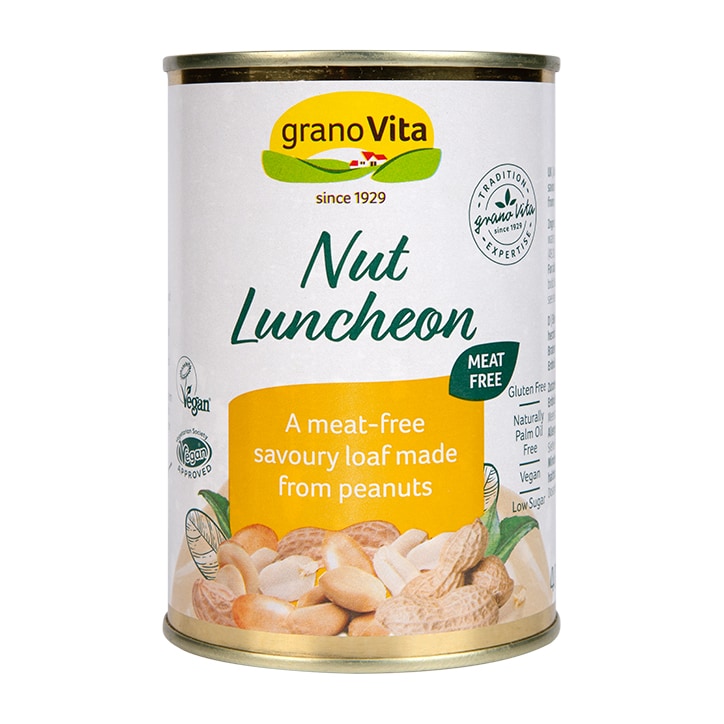 In this new age of seitan, jack fruit and other funky vegan meat alternatives it is easy to forget those ones that have been out there forever. Whilst some of them are best forgotten (anyone remember the 'tough as old boots' Jumbo Grills of the 80's?), some deserve to still be considered and respected for standing beside the vegan principle all these years later.
One in particular we still enjoy is Granovita's Nut Luncheon (years back it was called Nuttolene by Granose). It is one of those things that we buy and stick in the store cupboard and then find when we do a 'ready steady cook' style rummage. However it really does deserve much more credit beyond the desperate 'what have we got in the cupboard' rummage by a long way on the basis of its pure ingredients alone; with just water, peanuts and sea salt, these days you'd be hard pressed to find such an honest and simple product. It's also palm oil and gluten free. That is before you even get to taste it. By default, yes it is peanutty but in a sweet umami way and that can definitely blend very well with a multitude of flavours.
This evening we definitely went into 'let's make it up as we go along' cooking mode and along the way I was absolutely delighted to find that snorkeled away can of Nut Luncheon in the cupboard. With a bottle of half used barbecue sauce in the fridge it was crying out for a simple skewered solution, alongside several other 'use up' small dishes. It would be equally as good in a stir fry, sandwiches, curry or whatever
other wonders you can dream up. Basically, you can't go far wrong if you have a can of Nut Luncheon in your vegan store cupboard. At this time of year, particularly with camping trips planned, it can really come into its own for its no fuss and non demanding storage requirements - no fridge required here!
Keep a look out for it in health food stores and failing that you can buy it online. If you buy from Holland and Barrett at the moment it is not only buy one, get one half price but by activating easyfundraising.org.uk and choosing Viva! any purchase you make will raise 4% for them.