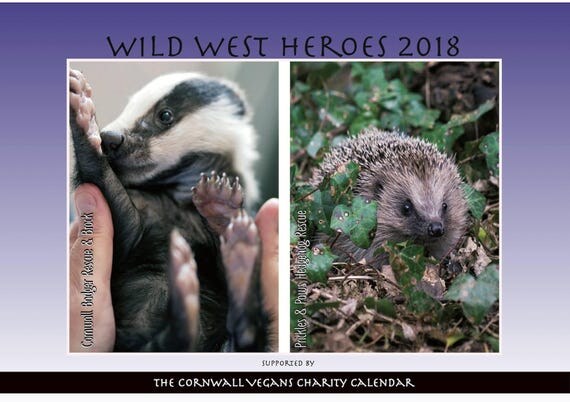 Remember those days before computers when we used diaries and calendars to help us navigate our way through the complexities of how to fit too much into too little time? Well, if like me you get irritated by the inhuman 'bing-bong' of an electronic device telling you what to do and when, you will no doubt be looking for a real calendar to hang upon your wall for next year. Ahh, the good old days eh? Apart from the fact that a real paper calendar is quieter, less irritating and nagging, you also get to look at lovely photos. Make it even more of a win-win by splashing out on a charity calendar.
For anyone that loves calendars, Cornwall or animals, is vegan (or knows someone that is), wants to raise some funds for charity, or any combination of the above, it just so happens that we might know of the perfect solution. The Cornwall Vegans Charity Calendar "Wild West Heroes" is a one-off design sold to support two wildlife charities in Cornwall; Cornwall Badger Rescue and Brock and Prickles and Paws Hedgehog Rescue. Both of these charities are run by volunteers, and rescue and rehabilitate all sorts of wild creatures in Cornwall, and by buying this calendar you will be directly supporting their work.
The calendar itself, produced by Cornwall Vegans, features photographs and testimony from 12 vegan men who live in Cornwall and Devon, and explores their own individual natures and journeys. Local vegans may even recognise some of these characters by face and reputation! Let's face it ladies, any vegan man is a hero too!
The calendar was printed with solar power and is A4 opening up to A3. There is plenty of space on it for making your own plans but helpfully a few special Cornish and animal related dates have also been added as well as bank holidays. The cost of each calendar is £10 plus shipping, so if enough are sold that could be a very much needed financial boost for these two special Cornish animal charities.